VISA Rewards Platinum Program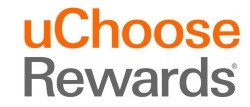 Earn more VISA rewards points in more ways with your Federated Bank VISA Platinum Rewards. Choose from millions of rewards you truly want. The choice is yours.
Using your Federated Bank VISA Platinum Rewards for all your shopping needs means your points will add up fast! You'll earn 1 point for every $1 spent every time you use your card and sign for your purchases. Plus, you'll earn even more when you shop at participating retailers. To learn about all the ways you can earn points, see the Program Terms and Conditions.
Frequently Asked Questions
1. What is uChoose Rewards®?
uChoose Rewards is a rewards program where you earn points for shopping or using your Federated Bank VISA Platinum Rewards. Then you can redeem your points for anything of your choice from a huge online rewards catalog.
2. How do I earn points?
Earn points on qualifying transactions. Plus, you can earn even more points when you shop at participating retailers. Choose to shop in-store at national or local retailers or online through www.uchooserewards.com. When shopping in-store, select credit and sign for your purchases.
3. Where can I earn points?
You earn points everywhere your card is accepted.
4. What can I redeem my points for?
You can redeem your points for literally thousands of options. It all depends on your personal preferences. You can get event tickets, electronics and hi-tech gadgets, spa treatments, apparel, airline tickets, activity vouchers – the list goes on and on. Browse the redemption section to see all the exciting options available to you. We keep track of all the points you earn and will help you find just what you are looking for when you are ready to redeem. We even have a Wish List that will help you track when you have earned enough to redeem a specific item.
5. When can I redeem my points?
It can take up to 60 days for your points to be credited to your account. You must accumulate 1,500 points before you can redeem your points. After that, you can redeem for any number of amazing items. Simply look for your "Total Points Available for Redemption" on the Point Details page to see how many points you have available for redemption.
6. Can I share points with family members?
Yes, all cards within an account automatically earn points together. In addition, if you have multiple accounts with Federated Bank, you can link them together to earn rewards faster. Just visit the Preferences page to link more accounts to your program.
7. Where can I view my point activity?
You can access the history of your point activity on the Point Details page.
8. What if I shopped at a participating retailer but my points are not showing up?
It can take up to 30 days for transactions to appear on the Point Details page. If points from a qualified transaction do not appear after 30 days, please contact Federated Bank.
9. Can points be redeemed at the point of purchase or can they only be redeemed online?
You can only redeem points online through www .uchooserewards.com.
10. What will happen to my points if my card is lost or stolen?
If your card is lost or stolen and a replacement is issued, points will automatically be transferred to the new card. Once you receive your new card, you will need to re-register on the website with your new card.
11. If someone manages to get access to my uChoose Rewards username and password, can they redeem my points?
Every effort is made to authenticate uChoose Rewards participants – but fraud can occur. If you feel that you might have been a victim of fraud, contact your financial institution so that an investigation can be undertaken.
12. When redeeming can I send to a work address?
Yes. You will have the opportunity to change the address for your redemptions.
13. How much does it cost to participate?
There is no cost. Membership in uChoose Rewards is absolutely free for Federated Bank cardholders so start shopping and earning today.
14. What if I have another question?
If you have other questions not answered here, you can contact the number or email listed on the Contact Us page.
15. Can I return my redemption item, and if yes, how do I do it?
Some redemption items can be returned and some cannot. To understand the various redemption policies and processes, please review the Terms and Conditions.