Mobile Banking is Easy, Convenient, and Secure
Do You Have the Latest Version of Our Mobile App?
Download Now

>
Farm & Agriculture Loans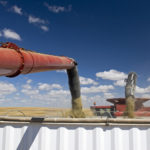 Federated Bank has flexible lending opportunities for farming operations and agricultural-related businesses.  We offer a variety of agriculture loans, which may be used to buy feed, livestock, implements, or land as well as lines of credit to improve cash flow.  We also provide flexible lending solutions for businesses which support the agricultural industry.   Our agricultural lending options include:
Real Estate Loans.  These loans may be used to purchase property, build, or refinance existing loans.
Equipment and machinery loans.  These loans may be used to purchase new or used tractors, equipment, or other farm vehicles.
Operating Loans.  These loans can fund day-to-day farming operations, including crop supplies, labor and family living expenses, livestock and breeding purchases, and other farm-related expenses.
Lines of Credit.  These flexible lines of credit may be used as needed to fund necessary expenses such as farm improvements, seasonal inputs, livestock, machinery, or even sending a child to college.
Federated Bank has been serving the agricultural industry for nearly 100 years.  We understand farms and farmers.  Our experienced lenders have the expertise to help you find the right farm loan solution for you.  Whatever your lending needs, we will help you keep your farm operation running smoothly.