The Season of Giving and Receiving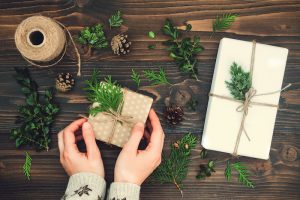 Seasons come and seasons go in Central Illinois, and everyone has a favorite. For many of us, our favorite season is just around the corner – the holiday season. There is just so much to love about the Thanksgiving and Christmas season. Good food, parties with friends, time with family, opportunities to give to those less fortunate, and just an overall air of goodwill are a few. Now we are giving you just one more reason to love this season.
The Season of Giving and Receiving
We are pleased to announce that we are participating in The Season of Giving and Receiving Sweepstakes, which offers you rewards for doing more of your normal banking activities online. The program will be open for your participation from November 1, 2018, until December 31, 2018. During that time, whenever you complete a qualifying transaction, a donation of $1 will be made on your behalf to Good360. In addition, you will be entered into a drawing to receive $5,000. It's your opportunity to both give and receive!
Qualifying Transactions
Transactions that qualify you for participation in the Season of Giving and Receiving program include:
Adding and paying a new bill with Online or Mobile Bill Pay
Setting up a new automatic payment with Online or Mobile Bill Pay
Sending at least $5 to a new payee with Popmoney
Entering a new Popmoney payment request.
We are hoping that this rewards program will encourage you to try these helpful electronic services. Once you've given them a try, we believe that the time savings, simplicity, and convenience will convince you to make them a permanent part of your banking routine.
As always, if you have any questions about this program or the products that are featured, we would love to answer them for you. Plan to make your qualifying transaction and make this great season even better.
Disclaimer: NO PURCHASE NECESSARY. Open to legal residents of 50 US/DC, 18+. Ends 11:59:59 p.m. ET on 12/31/18. To enter and for Official Rules, see www.SeasonOfGivingAndReceiving.com.