A Look Back on 2018 – It Was a Great Year!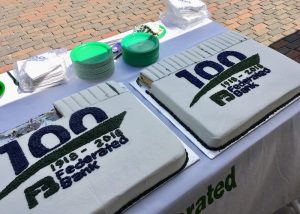 Can you believe that 2019 is here already? It seems like 2018 just got here and now it is already over. Federated Bank had a busy year this last year. As I'm sure you're aware, it was our 100th year anniversary, and we took advantage of the milestone to celebrate our past, show our appreciation to our customers at present, and look toward the future. Keep reading for a short synopsis of the highlights of 2018.
Remembering Our Past
One thing we tried to do during this anniversary year was to look back at the past and remember the proud history our bank has had. Just to be in existence for 100 years is quite an accomplishment, and we wanted to celebrate it. Obviously, none of us here today can take any credit for our bank's beginnings. Yet it was fun to look back and tell the story of our history. We hope that through some of our contests, ads, and blogs, you were able to learn a little more about our past too.
Celebrating Our Present
This year we also wanted to celebrate our present and thank our current customers for allowing us to serve them. Throughout the year, we had various customer appreciation events, including our anniversary open-house this summer. We had a great time that day, greeting lots of current customers, enjoying a wonderful catered meal from Shagbark Country Club, and giving away assorted prizes and give-away items.
Investing in Our Future
In addition to remembering the past and celebrating the present, we also wanted to look to the future and invest in our communities for the years to come. The focus of this investment was on our communities in general as well as the next generation. We were able to plant trees and add improvements to public areas in our local communities. It is our hope that these will provide many years of enjoyment to community members. In addition, we also focused specifically on the citizens of tomorrow through our annual July 4thbaby contest, the collection of Toys for Tots donations, and a scholarship offered in conjunction with the Community Bankers Association of Illinois (CBAI) Foundation for Community Banking.
We look back with a smile over the events of the past year. It has truly been a pleasure to contemplate the past, the present, and the future. We would be remiss if we failed to thank you, our Federated Bank customers, for your part in making 2018 a great year. We could not have done it without you!