At Federated Bank, Some Things Never Change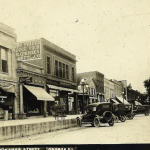 Celebrating our 100-year anniversary has gotten us thinking about all the things that have changed in banking over the last 100 years. With the advent of computers, ATM's, and smart phones, you can imagine the myriad of changes that have taken place. Yet observing this significant milestone has also made us realize that there some things that haven't changed. Here are a few.
Helpful Banking Products and Programs
Sometimes people assume that a small, community bank won't have the latest products or programs. However, at Federated Bank, we strive to keep up on the current trends and have been giving our customers what they want and need for many years. Whether it is using technology to make your life easier, offering protections that increase security, or finding the right mortgage to fit your needs, we have always been all about providing the best banking products and services.
Community Investment
For years our customers have relied on us, but we always keep in mind that as much as our community needs us, we need our community too. That's why we work hard to invest in the communities we serve, and we've been doing that for years. In addition to providing the financing that businesses need and the services that they depend on, we support, sponsor, and partner with projects and organizations looking to strength our communities.
Local Decision-Making
In years past, lending decisions were always made at the local level. However, as big-city banks have moved in and started operating branches in smaller communities, they don't always have the same perspective. Who do you think will understand your situation better – someone from your own community or a big-city executive you've never met? At Federated Bank, our loan applications are reviewed locally. In fact, all our decisions are made by our staff, who work here and know this community and the people who live here.
Friendly Customer Service
Finally, one of the most important things that has not changed is the friendly, personal service that we provide. If you need help, come in and explain your situation. If you have a question, we'll get you the answer. Our approach to customer service hasn't changed, and we hope that it never will!
While we may use less paper than we used to and rely more on computers to keep our records, we haven't really changed in the things that matter. Our involvement in the community and our willingness to serve and help our neighbors are as much a part of our character now as ever. Come in and see for yourself that at Federated Bank, the more things change, the more they stay the same!