Best Financial Advice from Mom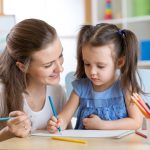 When we were kids, we thought Mom knew everything. When we got to be teenagers, we didn't think she knew anything. But as we live as adults, we often find ourselves appreciating Mom's wisdom more and more. Recently, some of our staff members took a few minutes to recall the financial advice that they received from their mothers.
Kayla Caspers
"My mom (Rebecca Rushbrook) told me not to put all of my money in one account. By having separate accounts, I am able to save more since my debit card is not linked to my savings. If I can't easily access my savings, I can't spend it frivolously."
Jess Bedolla
"My mom (Bertha) always said to not be afraid to use coupons or reward programs. The money you save can go toward something else. I always try to look for good deals and I do try to use coupons. I don't overdo it though."
Dan Brough
"My mom (Sandy) told me to go to college and to not take on more debt than I could handle. I've tried not to get buried in debt, but sometimes life happens and you need to do what you need to do to get by. I did go to college but that doesn't always mean that life will be good. I had a good childhood and was always taught to pursue what I wanted in life. And I did!"
Cheryl Robbins
"My mom (Rosie) always told me that it was important to balance to the penny. I used to keep meticulous registers and balance to the penny at least once a month. Then mobile banking and Bill Pay came along!"
We may not always listens to everything Mom told us, but most of us have to admit that most of the time, she really did know what she was talking about!