Federated Bank Celebrates America's Ag Community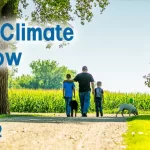 In recognition of National Ag Day, Federated Bank is celebrating the contributions of America's local farmers, ranchers, and agricultural enterprises.
At Federated Bank, we recognize the essential role of agriculture, which is central to our country's health and prosperity. Federated Bank pledges to do all we can to support these stewards of the land and their work to preserve our nation's natural resources – today, tomorrow, and for the future – for the benefit of all Americans.
Community banks, like Federated Bank, provide 80% of all financing to and are often the catalysts for new and expanded business opportunities within their communities. In fact, community banks provide roughly $130 billion in agriculture loans.
National Ag Day was founded nearly 50 years ago to recognize the contributions of farmers in providing Americans with healthy, affordable, and abundant food options. As part of the celebration, here are some facts about the agriculture industry:
The typical American farmer produces enough food and fiber to feed 166 people, producing jobs and investment throughout the economy.
Americans spend less than 10 percent of their disposable income on food, allowing consumers financial freedom to purchase other goods.
Farming and related industries employ 21.6 million people, making up 11 percent of total U.S. employment.
Community banks, like Federated Bank, have been serving the agricultural community for more than a century, applying their intrinsic knowledge of local markets and relationship-based lending philosophy to address this sector's financial needs.
Federated Bank looks forward to continuing this rich tradition of service, which supports our nation's food supply and bolsters our economy. We believe the local farmers that we work with are the lifeblood of our communities. If your farming operation is in need of financing or leasing, please contact your local Federated Bank office to see how we can help you grow in 2022!