Traveling on a Budget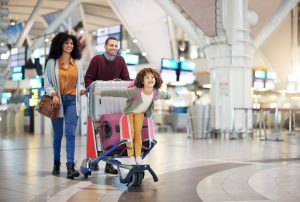 With the cost of everything on the rise, some people may be looking at the prices of travel and deciding to scrap plans for a vacation this year.  Before you throw out your suitcases and resign yourself to staying at home, consider these tips for making travel less expensive. As you set out a budget for traveling and do some research about what is available, you might find that you actually can take a trip that fits within what you can afford.
Give Yourself Time to Plan
If you want to leave on your trip tomorrow, it is going to cost you. That is almost always the case. The best way to get a good deal is to start planning way ahead of time. That way you can do research to find the optimal time to book your travel.
Be Flexible About Place and Time
Prices are influenced by many factors and can fluctuate based on current events or seasonal conditions. For example, prices in warm or tropical climates tend to be lower during the months when the heat can rise to levels that some deem intolerable. Depending on your own temperament and what you plan to do while you're there, this may be a perfectly acceptable time to visit.
Use Travel Sites to Find Good Deals
During the past few years, travel sites like expedia.com or priceline.com have made it easier to find a good deal on things like flights, car rentals, and hotels. Again, having some flexibility and utilizing these services can help you take advantage of discounted accommodations. You may be able to find deals that allow you to travel where you want without blowing up your budget.
Capitalize on Points
In case you haven't noticed, points are a big deal. There are many credit cards out there that allow you to accumulate points that can be used for various aspects of travel (airlines, hotels, etc.) Do your research to find out what cards best match your travel aspirations and spending patterns. There are often other advantages to using these travel cards so that you can make your trip more enjoyable while saving money.
Eliminate Extras that You Don't Care About
Finally, avoid the trap of being pressured into doing activities while traveling that you don't really enjoy. For example, tours can be helpful, but they aren't always necessary. If you enjoy guiding yourself and figuring out what is interesting, you can save a lot of money by just exploring on your own. Tourist attractions can be quite expensive so only pay for those you are truly interested in.
There will always be an expense associated with travel, but by making smart decisions and using the tools available, you might be able to make it more affordable. High prices don't always correlate with superior experiences, and knowing that you spent a little less on your trip will make it more enjoyable overall.