When Your Local Bank Isn't Local Anymore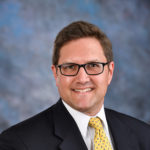 By Steve Wedig
Major life changes have a way of affecting even the small details of your life. For instance, a change in address may require that you find providers of often used services closer to your new home. Banking is one of those services that you may consider changing providers when you move. But is that necessary? Our blog explains the advantages of a local bank – even when it is further away.
Services that Make "Local" Relative
It wasn't that long ago that trips to the bank were a frequent occurrence. Tasks that necessitated a visit to the bank included depositing a payroll check, cashing other checks, getting cash, and transferring money from one account to another. Today these tasks can be accomplished without going to the bank.
The widespread use of direct deposit means your pay can be automatically deposited into your account without any action from you.
Online and mobile banking allow you to monitor your accounts and move money between accounts from home, work, or whenever you have access to your phone or computer.
Mobile deposit lets you deposit a check with your phone
With a debit card, you can get cash at an ATM or get cash back when making a purchase
With Popmoney, you can even pay individuals without cash or checks.
Since all this can be accomplished without a visit to your bank, it doesn't really matter if your bank is across the country or across the street.
Advantages of Staying "Local"
When you talk about a bank being "local," there are really two meanings being conveyed. Besides just referring to how close your bank is, "local" can also be used to indicate that a bank is a locally run or community bank as opposed to being part of a larger or even national conglomeration of banks. This second aspect to "local" is becoming the more important one in an age where trips to the bank are becoming less frequent and less necessary. It entails the kind of friendly service you get from people who are committed to serving the people they know. It also indicates decision-making that has more of a community focus. Lending decisions are not arbitrary but rather reflect an awareness of individual circumstances or community conditions. In short, at your "local" bank, you are a person, not a number or an account, and you can expect to be treated as such.
In our community, we often say goodbye to teens heading to college, retirees relocating to warmer climates for part of the year, or families leaving to pursue employment opportunities in other communities. We believe that Federated Bank can still serve these customers even when their physical address changes. Our array of services makes us as close to our customers as their phone or tablet. Additionally, some of our best ways to get general information to our customers are through our emailed newsletter or our social media posts. Whether you're just down the street or in another state, we will continue to treat you like a neighbor and provide all the banking services you need.