Finding the Right Car for You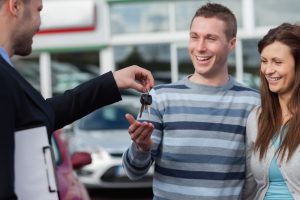 Spring and summer are popular times to buy a car.  Whether you're a recent graduate looking for your first car or a veteran driver who wants to upgrade to something that better fits your lifestyle, these are some tips for helping you find a car that is just right for you.
Assess Your Needs
Notice that this says "needs" and not "wants."  While you may be able to consider what you want in a car, you first have to evaluate what you need.  To do this, think about what you will be using your car for.  Will you be commuting every day?  Do you have plans to drive on long trips for business or pleasure?  Are you going to be hauling kids around regularly?  All these and other questions can impact what kind of a car you should look for.
Set A Budget
As much as you think of what you need, you also need to think about what you have to spend.  As you set a budget, you'll want to consider whether you will be paying cash for your car or whether you'll be financing the purchase.  Remember if you are borrowing money for the purchase, you will want to shop not only for your vehicle, but also for your loan.  The rate and term of your auto loan can have a significant impact on your monthly payment as well as the total you will pay for your car.
Be Prepared to Act Fast
Like many other products, cars are in shorter supply than in the past.  Prospective car buyers may find it harder to find that perfect car.  That is why it is important to know what you are looking for in terms of car size, age, functionality, price, and other factors.  Make your list of must-haves, have financing in place, and be ready to jump when you find a car that checks all your boxes.
Inspect Before Purchase
While you'll need to be ready to act, you still need to do your due diligence in making sure that any car (especially a used car) is a good investment.  Be sure to explore any records, such as the Car Fax and service records.  In addition, use your senses to evaluate the overall condition of the car.  It's always smart to take the vehicle for a drive and get a second opinion from a trusted mechanic.
As you consider your car purchase, don't forget that Federated Bank offers competitive rates, flexible terms, and friendly service on our auto loans.  When you're ready to buy a car, we will work with you to find the right loan for you.  Come in and talk with one of our friendly and experienced lenders today.