Best Financial Advice from Dad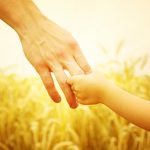 Last month we asked our staff members about the best advice they received from their moms. Now it's Dad's turn! Dad may not always have as much to say as Mom does, but many of us learned as we became adults ourselves that we would do well to listen to what he did say. Dad knew a lot more about the world and how things worked than it appeared to us when we were know-it-all teenagers. Here is what some of our employees had to say about the best financial advice from Dad.
Joan Honeycutt
"My Dad (Ronald Schoolman) would always say 'Money doesn't grow on trees.' I learned a lot from that simple phrase!"
Dan Brough
"My Dad (Don Brough) always told me to go to college and get an education so I could be 'better off' than they were when they were younger. I applied it by going to college and getting a degree in a field where I can do a lot of good for the people I work for and with. I don't feel that I'm 'better off' because I never felt like there were any issues in my house growing up. I had a good childhood and was always taught to pursue what I wanted in life, and I did."
Cheryl Robbins
"My Dad's (Bob Moore) best advice was 'If you can't afford it, don't buy it.' While I would like to say I have ZERO credit card debt, I can't! We do try to live within our means per my Dad and his father before him."
Jackie Weber
"The most helpful advice my Dad (Beryl Luecke) gave me is 'Don't spend money you don't have.' To this day, he does not believe in using credit cards. Having lived through the Depression, he still saves everything!"
Jacob Clark
"My Dad (Matt Clark) taught me the valuable lesson that just because you have $10 in your pocket doesn't mean you have to spend it."
Jess Bedolla
"My Dad (Jose) told me, 'Don't waste your money on insignificant things. If you can live without it, you don't need it.' I always rethink my decisions to buy anything, from big purchases to smaller ones. I make sure what I'm getting is worth the money I'm spending."
Kayla Caspers
"My Dad (Dan Rushbrook) told me to make sure I had a 'rainy day fund' (money set aside for life's unexpected expenses). When I was younger I ignored this advice and ended up in a lot of debt. Now, though, I've learned to save money, just in case anything happens."
Dads know a lot about spending, saving, and managing money. We can benefit by listening to and learning from them!