Banking Without Stepping Foot in the Bank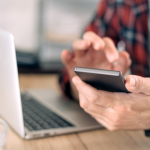 Going to the bank used to be a part of the routine errands that everyone had to do on a regular basis.  In the past few years, things have changed.  Technology has influenced all of life and industry, including our banking habits.  Trips to the bank have decreased as we've gained the ability to do more banking tasks without actually going to the bank.  Just think of all that you can do without ever stepping foot in a bank. Here are just some of the ways that Federated Bank customers can bank without going to the bank.
Check Your Balances
Mobile banking has transformed the way that many of us oversee our finances.  No longer do we need to consult our account registers or stop by the bank to confirm our account balances.  Now it's as easy as getting online to check the balances of all our accounts.
Transfer Money
Moving money from one account to another has never been easier.  Remember when you used to have to call or visit the bank and ask a teller to transfer money from one account into another for you?  Those days are gone! Now with online or mobile banking you can make transfers yourself from your computer, smart phone, or tablet.
Deposit a Check
For many of us, Friday afternoons used to include a trip past the bank to deposit a paycheck.  That is now a thing of the past.  Most businesses offer their employees direct deposit.  For other checks, account holders can utilize remote deposit to deposit checks virtually by merely snapping a picture.
Get Cash Out
While many of these banking tasks can be done from home, you'll have to leave your house to get cash out.  However, with several ATMs at convenient locations, you can have access to cash at any time of the day rather than being restricted to normal banking hours.
Pay Your Bills
Technically you've always been able to pay your bills from home, but online Bill Pay certainly has some advantages over the old way.  No more envelopes, no more stamps, no more checks lost in the mail.  You can pay all your bills online, schedule them in advance, and have a digital record of all your payments.
Send Money to Anyone
In addition to being able to pay bills online, you can also send money to anyone you need to pay with Popmoney.  Split the check with friends, pay the babysitter, or reimburse anyone you owe without having to mess with cash.
Apply for a Mortgage, HELOC, or Personal Loan
In the past, customers had to come in to apply for a loan, such as a mortgages, HELOCs, auto loans, or personal loans.  Now with our new online loan application, you can apply from the comfort of your own home, without the hassle of paperwork.
The last 18 months have taught us that we can't always count on being able to go about life as usual.  While we hope that lockdowns are a thing of the past for us, it is nice to know that even if we can't get out, we can still conduct our banking business.  The ability to bank from anywhere at anytime can also be a comfort when illness or bad weather make it difficult to get to the bank…or when you just don't feel like going out!  Our friendly customer service reps and loan officers are still at the bank if you have questions or need help, but we are happy to be able to offer so many services that can be used without making an actual visit to the bank.