Avoiding Scams While Shopping Online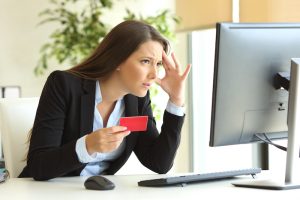 Shopping has drastically changed over the past few decades. More and more, people are shopping online rather than visiting a store. As shopping has changed, criminals have adapted their tactics to take advantage of our new habits. Now rather than being on the look-out for a thief who might grab their bag or sneak away with their credit card, shoppers need to be aware of the online scams and tricks that online criminals use.
Fake Online Websites
Building a real store takes a significant in time and money. Setting up an online store is comparatively much easier. Furthermore, when shoppers visit a brick-and-mortar store, they can see the selection of items for sale and pick up the actual merchandise for purchase. None of that is possible when shopping in an online store. Online shoppers merely look at pictures, trusting that there is real inventory represented by the images on the website. This is why it is so important to make sure that any website that you order from is legitimate. If you thinking about making a purchase from a website that is not well-known, do a little research. Check out their reviews, find out if the BBB has any complaints, and verify their contact information.
Substandard Merchandise
Similar to fake online websites that only take your money and never deliver items that are purchased, other scammers may have actual merchandise but do not honestly represent what they are selling on their site. While they may advertise name-brand or high-end items, what you receive are cheap imitations. Again, checking reviews and BBB complaints can help you avoid falling victim to these types of online scams. It also helps to remember that if it sounds too good to be true, it probably is.
Free Gift in Exchange for Your Information
What's even more attractive to buyers than cheap? Free! Another scam that people may fall for is an offer to receive a free gift in exchange for personal information or by paying for postage to ship the item. Keep in mind that anything that doesn't cost anything probably isn't worth anything. Don't open yourself up to the risk of having your identity or credit card information stolen just to receive a worthless "gift."
In short, remember that when you shop online you need to be just as careful if not more careful than you would if you went to a store to shop. If something doesn't feel right online, it's probably best just to go to another site that is reputable, well-known, and proven to be trustworthy and secure for its customers. Visit our website for more tips for avoiding fraud.