A Cost-Conscious Christmas – Keep the Fun, Reduce the Cost (And the Stress)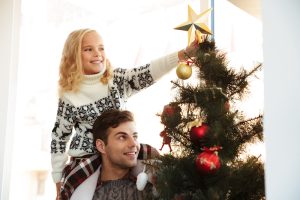 It's not just the kids that look forward to the holiday season. Many of us, old and young, can't wait for the traditional gatherings of family and friends for Thanksgiving, Christmas, and New Year's. But as we make our plans and preparations, the cost (and the stress) continues to grow. Most of us have lived through holiday seasons that have taken on a life of their own. One thing leads to another and in the cold quietness of January, we look through the stack of holiday bills and wonder what happened. It's a wise idea to make some decisions to keep holiday costs under control before the season begins. Keep reading for a few ideas to keep the fun and reduce the cost (and stress) of the holidays.
Keep the Decorations Simple
Sometimes we simply let things get too complicated. It never hurts to step back and simplify. Do you need to have a tree in each room? Can you make your house just as festive with a few lights outside rather than covering every inch of your exterior? Maybe instead of purchasing new decorations, you can find some older ones that have been stored away for a few years that you can pull out to bring a nostalgic feel to your holiday decor.
Let Guests Share in Food Prep
Some hostesses enjoy preparing the whole holiday meal themselves. They like to have things a certain way and make sure that everything fits well together. But let's face it – that can be stressful and expensive. If you're looking to reduce your costs at Christmas and your stress level, you can divide up the items on your menu and ask everyone to bring something. Most guests are more than happy to bring one dish, and this strategy distributes the cost among all the participants.
With Gifts, Sometimes Less Really Is More
We have seen the gift-giving aspect of Christmas exploding over the past few decades. If you don't believe me, just think about how many commercials you see for giving cars or other vehicles as Christmas gifts. Now most of us will never give or receive a car for Christmas, but we all feel the pressure to give more and more to prove how much we care about our loved ones. Yet is that really the best way to communicate love? We all know that a simple thoughtful gift can mean much more than just some expensive toy.
Experiences Don't Have to Be Expensive
Some holiday experiences can be expensive and have gotten more expensive in recent years. Attending a holiday concert, play, performance, or light show can come with a big price tag. If this is a tradition for you, maybe you should consider only doing that every other year. There are less expensive options, such as church or school events that may even be free to attend. If you like looking at the lights, you can go out on a hunt to find the best light displaying in the surrounding neighborhoods. You can also explore at-home activities such as games or caroling that can be a great way to make memories and get to know your loved ones better.
The holiday season can be busy, stressful, and costly, but it doesn't have to be. Give some thought this year to how you can keep the fun in the festivities and lose some of the cost and the stress.