Tips for Selling a Home in the Winter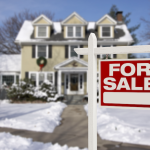 Spring is the season that is typically associated with home buying and selling, but the truth is that in every season there will be some people who need to buy a home and others who need to sell.  While winter may not be the most popular time to sell a home, there are ways to make the most of it and overcome the unique challenges of selling a home in the winter.  Here are a few tips for selling in the dark months of a central Illinois winter.
Keep it clean
Things can get messy anytime of the year, but winter definitely presents the opportunity for big messes.  Snow and ice melting on the entryway floor, muddy footprints all over the house, bulky coats left out in the open.  You'll want to keep the mess and the clutter to a minimum to make your house appealing to prospective home buyers.
Keep it safe
Icy sidewalks and snowy steps can make a home showing a dangerous endeavor.  Be sure to scoop snow and put down salt or ice melt.  You'll want to make sure that your home doesn't have any hazards that might cause an accident.  The last thing you want is for potential home buyers to leave with a broken leg!
Keep it light
Winter can be a dark time and darkness tends to suggest gloom.  Open curtains to let in maximum amounts of natural light.  In addition, turn on as many lamps and lights as possible to make the interior look as light and attractive as possible.  A well-lit house will be appealing and allow you to show off your home's best features.
Keep it warm
Feeling cold will rarely leave anyone with a positive impression.  You don't want your guests shivering on the home tour.  Be sure that the house is warm before potential home-buyers arrive.  Starting a fire in the fireplace will bring warmth as well as a sense of coziness to the home.
Selling a home in the winter may not have been your ideal situation, but with a little bit of thought, it may turn out to be perfect timing.  If you are also buying a new home, remember that Federated Bank offers a variety of mortgage options as well as an easy-to-use online mortgage application.